This Month's HipBites

Circus Silks

Upside down splits? It's not only for Olympians. This month's bucket list activity is running off to join the circus: silks acrobatics. Here's what I did. And how you can too.

Also I'm turning over the possibility of offering some of our adventures as group trips. Interested? Drop me a line with what bucket list activity you're contemplating at: ceo@hipguide.com
#xoSyl

What: Silks
About ten years ago it became en vogue to have acrobats hanging on ropes above your nightclub. They shimmy up and do all sorts of flips and poses. Looks so easy doesn't it? It's not. I somehow found myself in a class the New York Trazeze School calls Silks. You use two silk ropes hanging loose from the ceiling down to the floor to hold yourself and mold yourself into all those crazy positions. It didn't help my confidence that our instructor had a body that probably has -2% body fat. Nor funnily enough did my 16 years of ballet make anything easier. Silks is clearly based on your ability to lift your entire body using only your arms. If you can sit on the floor with your body in an L and lift yourself off the ground pulling yourself up on a rope, you're ready. If not, this class is mighty hard. The second part is that the ropes move - they're just hanging - so while you can use them to twist around your arms and ankles to keep you from falling to the ground, it does mean that there is nothing with which to steady your body on or assist in getting into poses. It's all based on your core, on stomach muscle strength.

Where: Circus Warehouse
Originally the NY Trapeze School was on 30th street. They're now looking for a new indoor location but they suggested you try the Circus Warehouse. Our policy is ever if we haven't tried it, we don't recommend it but NY Trapeze has partnered with them before. Running or yoga gear is best. You want something you can move easily in but which protects from abrasion. No shorts and nothing loose as it will get tangled in the ropes. Despite the rigor, I found this class fascinating. It gave me a new found respect for acrobats, those performers in Vegas, and appeased my childhood desire to run off and join the circus (not entirely, look for a trapeze experience in a future newsletter.) You'll get a heck of a workout (be prepared to sweat) and be super proud of yourself when you get yourself into a split. I managed one of those and a few other Vegasey moves... But I should probably keep my day job.

Circus Warehouse
53-21 Vernon Blvd
Long Island City, NY 11101
212-751-2174
http://circuswarehouse.com

I hope you love your circus experience!



A piece of the action...
Can't make it to LIC but want a piece of this experience anyway? I tracked down one of my fave Cirque du Soleil shows on DVD.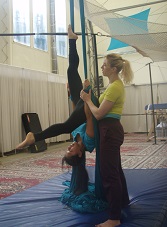 ~above~I am actually holding my entire weight and balancing upside down.
All rights reserved. Image copyright Syl Tang.

Have an adventure we should try? Want to advertise in these emailed articles? Contact us for HipGuide ads at: sales@hipguide.com

WE'RE ON INSTAGRAM! FOLLOW US!