This Month's HipBites

Flying Falcons

Alligators, camels, and now raptors? Oh my. Come falconing with me. Here's what I did. And how you can too.
#xoSyl

Birds of prey
Falconry, or following birds of prey doing what they naturally do, is breath-taking. Typically this can be eagles, falcons, or Harris hawks. Hawks are fascinating birds. They can fly up to 150 mph when diving down to catch prey and some species travel thousands of miles a year. They mate for life, and their sense of hearing is acute, with their eyesight the best in the animal kingdom. They can see eight times more clearly than we can. Depending who you ask, falconry goes all the way back to 2000BC, to Mesopotamia or Mongolia.

British School of Falconry
The British School of Falconry is the U.S.'s first school to do hands-on lessons so that you can handle and free fly these spectacular birds of prey. There are many kinds of raptors, or birds of prey, such as accipiter hawks, buteo hawks and so forth.

I went and learned how to release a bird, and to call it back. In particular you'll see my non-action hand is in my pocket so as not to confuse Wallace, the Harris hawk that I am flying. He goes out, and then when I put my arm in a particular position, he comes back to perch. It is heart-stopping the first time a bird with a 4-foot wingspan flies straight at your head.

Not to confuse Harris hawks with eagles or falcons, this school cares for all three. The eagle is most noticeable for an even greater wingspan which can be nearly eight feet. Unlike eagles, falcons do not drop their prey. They capture them mid-air. Falcons are essentially stream-lined hawks. Birds of prey are essential to our nature's balance and watching Wallace do his thing was stunning.
The British School of Falconry
1550 River Road
Manchester, Vermont
802 362 4780

Stay
I stayed in Vermont at a spot called the Equinox. It's 200 years old and perhaps most well-known for housing the American revolutionaries when we were fighting the British (sorry British friends). But it's also housed four American presidents, and was a fave of Mr and Mrs Abraham Lincoln. There's golf here, and some pretty amazing fly fishing as well as nifty outlet shopping just down the road. I was told there would be ghosts, but I am sad to report I did not see or experience any.
The Equinox
3567 Main Street Route 7A
Manchester, Vermont
800 362 4747

I hope you love your falcon experience!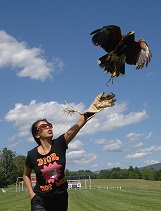 ~above~me with Wallace, a Harris hawk.
All rights reserved. Image copyright Duffy-Marie Arnoult.

WE'RE ON INSTAGRAM! FOLLOW US!