This Month's HipBites

Wrestling Alligators

You've gone with me flying in a fighter jet, riding camels in the desert and to the Arctic Circle, so you've probably figured out by now, fearlessness is a theme of our adventures. So for this one, we're going alligator- wrestling. For those of you a bit worried about that, never fear. It's a two-parter. Here's what I did. And how you can too.
#xoSyl

Air Boating
Who doesn't love the opening scene for CSI Miami? There's something quintessentially American and Southern about it. That scene takes place in the Everglades, which can be a challenge for those who've dreamed of re-creating it. Those of you who know me know that I've written about the effects of Katrina on wildlife in the Financial Times and the importance of preserving our ecosystems in HipGuide. The Everglades is the largest subtropical wilderness in the U.S. spanning 1.5mm acres. Most of the 2400 sq miles of Everglades National Park is a wilderness preserve with many protected species and nine distinct ecosystems. Therefore airboats are not permitted. However in 1989, a northern section of the park was created as commercial parkland where private operators offer tours. I went with Everglades Safari Park for my airboat experience. You'll want to bring a hat that sits tight on your head as the trip is exposed, a loose cover-up to protect from the sun, and plenty of bottled water and sunscreen. We took a 40 minute ride. You can do a private tour or join a group. The stories about wildlife mishaps are hilarious and we got to see quite a few of the 300 types of birds known to be found in the Everglades.
Everglades Safari Park
(305)226-6923
info@EvergladesSafariPark.com

Alligators
This company also offers alligator demonstration and handling. Alligators swim about 16 miles per hour and are found only in the U.S. and China (unlike crocodiles which are found worldwide.) Unfortunately for the gators, in the last two decades, unwanted pet pythons have been dumped into the swamps and have thrived, leading to what many wildlife experts say will eventually be a problematic standoff between the two species. In 2005, a 13 foot Burmese python was found headless after it attempted to ingest a 6 foot long alligator. Nonetheless, the handlers here are doing their best to preserve the ecosystem, especially as there is some concern that if pythons can eat gators, well, they can overtake other species as well. Word to the wise, handling gators is not without risk. Our handler had a nice little hole in his hand where he once tussled with one of these creatures. Join me at your own risk.

Stay
In Miami, I personally like the Dream Hotel. I may be biased because I was there for its opening but for me, it epitomises South Beach. I like the proximity to all the shops and the pool and accompanying bar upstairs for its convenience. But best of all, I appreciate the concierge for their know-how. (There wasn't a club where they couldn't get me prime VIP.) So stay here, and have them arrange your excursion for you.
Dream South Beach
(305) 673-4747

I hope you love your gator experience!

A piece of the action...
Can't make it to Miami but want a piece of this experience anyway? I tracked down a Nat Geo documentary on DVD of the above Python vs Gator stand-off!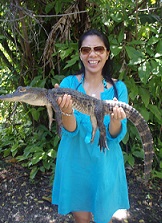 ~above~me carrying a little alligator.
All rights reserved. Image copyright Syl Tang.



Want to know more or plan a longer excursion? A link to The National Park Service's Everglades pages