This Week's HipBites

UK Home Counties

As August approaches, some of you are "holiday or bust" so I'm doing a couple of pieces on relatively affordable breaks. This one's for those of you either headed to the UK or already there (the next one will be Americas focused). ~ Syl
p.s. As always at the bottom are our most recent reviews such as The Gates, Table 8, and Piccola Cucina.

Hampshire & Berkshire
If you never get outside London, you can train to any part of my 4-day itinerary below and it can be broken up into just one night or two of tranquility and great food or just plain sports or sightseeing. And even a day trip for Sunday roast lunch is do-able. Plus the Hampshire Food Festival goes till July 31st.

Thursday
Dreamt of being in 'Atonement' or 'Pride and Prejudice'? The extremely beautiful Tylney Hall inspired Ian McEwan with its spectacular 112 rooms. You can croquet on the lawn facing the longest uninterrupted view in Hampshire. There are walking trails, a golf range next door, indoor and outdoor pools (the indoor atriumed one has a whirlpool as well), and the Estate Houses have complete privacy - we like the suite with its own private greenhouse. Dinner in the Oak Room is a must. Be prepared for the traditional 'order during cocktail hour' complete with proper white glove service (yes, bring a jacket and tie!) You can train here from London to Basingstoke or Hook stations.
Tylney Hall
Rotherwick, Hook RG27 9AZ
+ 44 (0) 125 676 4881
www.tylneyhall.com

If you ever wondered where your spring lamb came from...schedule yourself into a cookery lesson at Newlyns Farm and learn how to make such dishes as pork belly with puy lentils and smoked bacon or roasted fillet of lamb in herbs and porcini. A full day cooking class is worth it in this state of the art kitchen but downstairs there's also a spectacular cheese selection, such as Barkham or Blackstick blue, Yarg or White Stilton.
Newlyns Farm cookery
Hook RG29 1HA
+ 44 (0) 125 670 4128
www.newlyns-farmshop.co.uk

Friday
Drive to The Anchor Inn. With rooms between £95 and £170 inc VAT, this is part of the Miller's Collection, a set of inns, favoured by Prince Charles and Guy Ritchie, which practically defy description they're so beautiful. The Rupert Brooke room pays homage to impassioned love, and the setting here, with a triangular ceiling and terrace is exactly right for that. You may not want to leave your beautiful room but when you do, cuisine downstairs can feature such things as Barnsley chop with beetroot in anchovy butter; Donald Russell rump steak; a smoked haddock risotto with poached egg or whole plaice with warm potted shrimps.
The Anchor Inn
Lower Froyle GU34 4NA
+ 44 (0) 142 023 261
www.anchorinnatlowerfroyle.co.uk

Then detour to Winchester, the shopping's good in this city, but here is also where Jane Austen's home is as well as the legendary Round Table. The Winchester cathedral is where they filmed parts of the Da Vinci Code and Elizabeth.

Saturday
Make your way to The Peat Spade Inn. This spot is about country sports with immediate access to and views of The River Test. You'll go out for the day, then come home to a lively after-fishing crowd at the bar. Book yourself into the Spitfire Shoot to learn how to shoot simulated woodcock, grouse, pheasant, and ducks. I've gone shooting all over and Peter Harding is hands-down the best instruction I've had. (Measured by the fact that I hit all the clays of course!). Or learn how to cast with Howard Taylor at Upstream Dryflyfishing. The Peat Spade is perhaps most known for Londoners- at- their- country- homes and Wellies and waders are equally well- heeled here, enjoying their classic beer battered cod with pea puree or Greenfield pork and apple sausages with mash.
SpitFire Shoot
+ 44 (0) 126 481 0312
www.spitfireshoot.co.uk
Upstream Dryflyfishing
+ 44 (0) 142 540 3209
www.upstreamdryfly.com
The Peat Spade Inn
Stockbridge SO20 6DR
+ 44 (0) 126 481 0612
www.peatspadeinn.co.uk

Sunday
On your way to The Queen's Arms, take a drive past Stonehenge. I didn't feel a whole day was needed but a drive past and brief stop as you're so close is worth it. This last inn is near Cheltenham; in East Garston, Berkshire, and about horse riding and training opportunities. After going riding, you'll retire to rooms decorated by English heritage brands such as Hunter, Orvis, Holland & Holland, cordings and so forth. Check out the scrumptdeliumptious breakfast below; you won't want to check out.
The Queen's Arms
East Garston RG17 7 ET
+ 44 (0) 148 864 8757
www.queensarmshotel.co.uk

Lastly but never leastly we had a lovely stopover in Oxford on the way back and lunch at The Trout. A bit too snotty now that they've been in some TV shows, the view of the river is really what you've come for. And while having our roasts, we even saw a peacock on the roof.
The Trout
Wolvercote OX2 8PN
+ 44 (0) 186 530 2071

Below: My actual classic full English breakfast at the Queen's Arms - doesn't that look delicious?

See you next in the Americas!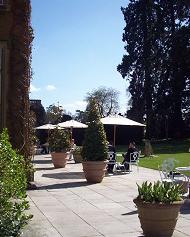 Above: The view that inspired Ian McEwan at Tylney Hall.

Want to advertise in these emailed articles? Contact us for HipGuide ads at: sales@hipguide.com