This Week's HipBites

48 in VIENNA

Who doesnít want to go to Europe in summer? But finding a spot where the high valued Euro doesnít bankrupt you? Spend two (or more) days with my simple guide to one of the more manageable Western European cities where you wonít be fighting the crowds. ~ Syl

p.s. As always at the bottom are our most recent reviews. Highbar, Islero and Pooldeck Bar in New York; Green Door, Comme Ca in LA are just a few that have made the cut for the site lately.

STAY
On the Opernring, across from the Opera House (Vienna is after all famous for Mozart and Strauss) is the Le Meridien Wien. Stylised but pared down, this spot offers complimentary cappuccino in the lobby and mopeds to rent. Done up with blond wood, modernist rooms and built in ironing boards and hair dryers. On the higher end, the more classic Hotel Bristol offers Marie Antoinette-esque styling. Down the street, the Hotel Imperial with its lobby chandelier is also lush as it was one home to the Prince of WŁrttemberg.
Le Meridien
Opernring 13
+43 1 588 900
Hotel Bristol
Kšrntner Ring 1
+43 1 515 160
Hotel Imperial
Kšrntner Ring 16
+43 1 501 100

SEE
The canít-miss is of course the opera house. Built between 1863 and 1869, architects August Sicard von Sicardsburg and Eduard van der NŁll, they do of course Carmen, Don Giovanni , i.e. the classics, but I think itís a chance for you to see some unusual ones such as Wagnerís Lohengrin or Straussís Capriccio. If operaís not your thing, thereís also the New Years Concert which has a polka and a waltz, or if you just canít sit still, thereís the annual Vienna Opera Ball.
www.wiener-staatsoper.at

If you go left out of the Meridien instead of right, you get to the Imperial Palace (Hofburg Wien). My favourite thing inside the Imperial Palace is the butterfly reserve. Called the Butterfly House, theyíve built a waterfall, some small ponds and thereís even a pupa box for you to watch how larvae become butterflies.
Burggarten, 1
www.schmetterlinghaus.at

Also worth seeing is the Spanish riding school. Itís the only one in the world still in full equestrian tradition, from the riding habit to the Lipizzan horses pas de deux, quadrille, levade, courbette and capriole. Across from the school is an amazing excavation showing Roman Walls as far back as the 1st century to Imperial Walls in the 18th .
www.hofburg.wien.info

EAT
My favourite restaurant in Vienna is the Gasthaus Immervoll. The place itself is more like a pub but just down the road of the Franziskanerplatz (square) is outdoor seating for about 30 where one can have wiener schnitzel with vinegared potato salad, white asparagus soup and other traditional specialties. In the same square is the tiny and picturesque Kleines cafe. From a strong cappuccino to strudel, the cafe also offers sandwiches or sausage specialties.
Gasthaus Immervoll
Weihburggasse 17
+43 1 513 5288
Kleines Cafť
Franziskanerplatz 3

In the gardens of the Imperial Palace above the butterfly reserve is the outdoor cafť Palmenhaus. Serving up modern Europ cooking such as Arctic Char and buffalo mozzarella salad, many a long lunchtime meeting can be seen being conducted over a lawn where students throw down their bicycles and lay out.
Cafť Palmenhaus
Burggarten
+43 1 533 1033

Kim Kocht and Kojiro are the most popular Asian spots but when Iím here, I want the traditional so my other favourite is Palais Coburg. Itís Christian Petz (Julius Meinl am Graben)ís spot and they have 22,000 bottles of wine.
Palais Coburg
Coburgbastei 4
+43 1 518 180
Meinl am Graben
Am Graben 19

DRINK
The catering company Do & Co is the big game in town, catering both Austrian Airlines and also owning a number of spots including the Onyx bar. While the staff at this bar is not the nicest (both times we were refused a window-side table in a near-empty room), the bar overlooks Stephansdom (St. Stephen's Cathedral) with its spectacular tiling and you canít miss the view.
Onyx Bar
Stephansplatz 12

Volksgarten is the big nightclub that one can't miss. Itís three spots in one, The Banana, the Winter Garden and the Evergreen Garden. Though itís been open forever, itís still home to hot weekly parties and every celeb in town stops in.
Burgring 1
+43 1 532 4241

As though in jest, there is the Loos American bar, notable only for its pint-size pub feel and rowdy crowd of locals perhaps looking for the Americans to live up to the GGW reputation.
Kšrntner Durchgang 10
+43 1 512 3283

Behind the Spanish Riding school is the outdoor Weinbar. Simply named, a 1/8 sized glass of wine can be had for 2.5 euros, with an extra 1 euro deposit on the glass (perhaps some too enthusiastic have wandered off with the rose.)

On a sunny day, you canít miss the two bars on the Danube river, the Badeschiff and Strandbar Hermann. The former is literally two boats, one with a pool (so bring a swimsuit) where you can lay out and get nibbles. The latter is a more popular but seriously crowded bar that reminds me of Paris Plage so perhaps a weekday affair. If itís sports youíre after, thereís beach volleyball and soccer to be had at Sand in The City, an outdoor ďbeachĒ in the Museum Quarter.
Badeschiff and Strandbar Hermann
Donaukanal
www.badeschiff.at
www.strandbarherrmann.at

ATTEND
Canít get to Europe now? Start making your costume for next yearís annual Lifeball. Attended by over 40,000 in Vienna's city hall, Gery Keszlerís 15 year extravaganza is Europeís largest AIDS charity event. Expect to walk a 95 metre length red carpet, and be judged alongside such folks as Debbie Harry, Kim Cattrall, Sharon Stone, Vivienne Westwood, Mario Testino. Last year red carpet Style Police elected the best dressed, awarding two air tickets to the DR.
LifeBall.org

Iím obsessed with this book THE ENDLESS CITY (when have you ever seen me say that?) Itís my latest coffee table addition. Ever since I worked on Michiganís Cool Cities program, Iíve been watching other urban centres change. A mere century ago, the majority of people on Earth worked off the land to survive in rural areas. By 2050, a staggering 75% will reside in cities. This book is chockful of facts, figures and examination of life in six spots. New York, Shanghai, London, Mexico City, Johannesburg and Berlin. Get it, youíll have cocktail chatter for years.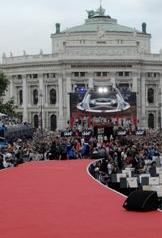 above View of Vienna's City Hall from Lifeball catwalk. Photo courtesy of Neil Rasmus, Patrick McMullan Company. All rights reserved.

Hip Happenings
Stuck in NYC? Itís almost like going to beach at Ed's Lobster Bar. The last hour every night, that is 10-11 Tues-Thurs, 11-12 Fri-Sat $40 gets you a dozen oysters and 2 champagnes or sparkling rose.
Ed's Lobster Bar