This Week's HipBites

Montreal - A Perfect Long Weekend

If you follow my itinerary for a long weekend in Montreal, you won't go wrong. This allophonic town is one of the friendliest places in the world. Right now, there's also great Autumn leaves to see. As always, our latest hot spots (not in Montreal) featured below also.
~ Syl Tang

Friday Day
Just an hour from NY by plane, check in to the Opus Montreal on corner of Saint Laurent (10 Sherbrooke West, 514 843 6000). Saint Laurent runs North-South and separates the West, East of the city streets (numbers change in the middle.) The hotel used to be the Godin and is owned by folks who own Opus Vancouver and Adara in Whistler. Get a room on the historical side; the round walls and tubs are gorgeous. In the middle of a reno that will be done in April, I'd ask for the Dede room. It's the fashion one. Or the PH suite with its own pebble balcony.

Lunch at Olive et Gourmando (open till 6 only) in Vieux Montreal. A 20 min walk down Saint Laurent to the water. Paninis, heirloom tomato salad, black bean soup. (351 Saint Paul West, 514 350 1083.)

Facial at Valmont Spa (446 rue Sainte Hélène, 514 510 6850), the only North American outpost of the famous Swiss spa. Product line is unbelievable but I'd skip the extractions. You don't need them and they're harsh on your pores.


Other Hotel options
Valmont is across the street from the Hotel Gault, which is another one I'd stay at (449 rue Sainte Hélène, 514 904 1616.) The big four to me are Opus, Gault, the W and the Hotel Le St James (where Madonna stays. 355 Saint Jacques, 514 841 3111).
Just in time for cocktails at Suco back at Opus. The lounge currently does breakfast, evening tapas, cocktails and room service. Mohammad Zai, their chef has worked at Michelin star spots and I like his cous-cous.

Dinner I'd go to Toqué (900 Place Jean-Paul Riopelle, 514 499 2084). Christine Lamarche and chef Normand Laprise's kitchen is widely known as the most exciting in Canada. If you're on your own, sit at the bar and try the food.

Other Friday dinner options
Au Pied de Cochon which is world famous for foie gras (536 Duluth East, 514 281 1114.)
After dinner, I'd go to Baldwin Barmacie (115 Laurier West, 514 276 4282.) Owned by a DJ, the cream-coloured bar fills up fast with moneyed art and fashion types such as local designers Renata Morales and Dexter Peart (he's behind WANT Les Essentiels de la Vie.) The pharmacy theme is born out in the libations (such as the martinis) and the place rocks till about 3 AM. It's in a neighbourhood called Plateau, which runs along side the mountain.

Saturday
Go to Schwartz's (3895 Saint Laurent, 514 842 4813) for lunch. Montreal smoked meat is a big deal, and the Stones, Celine Dion, Angelina Jolie, Halle Berry - every celeb - comes here.

Other Saturday lunch options
If you're after something more formal, head back up to the Plateau to Lemeac (1045 Laurier West, 514 270 0999.) Afterwards, walk Mont Royal and Saint Denis. Though Laurier has higher end stores (check out Henriette L for Rykiel and Girbaud), these two shopping streets are very student. Full of UQUAM and U of M student types and it's where the vintage shops are. And Flower Box (where the plants hang vertically.)
If shopping is your cup of tea, then the other key street is Sainte Catherine. It has all the Canadian megs, Holt Renfrew, Roots, Le Chateau, but also Winners, the TJ Maxx of Canada. I scooped up a pair of limited edition (128 out 200) Warhol pants. Canada gets all the European goods that don't make it into the States so it's also good for eyeglasses (I like Antoine Laoun) or say Chanel (the European formulations are different.)

If you can get into an apartment, see Habitat 67 (2600 avenue Pierre-Dupuy). Built for Expo 67 by architect Moshe Safdie who said let's build pods in a factory and stack them on top of each other like legos, the waterfront housing is extremely mod and unusual. The tenant whose been there the longest, Clyde Kwok re-designs Porsches, that is, Porsche engines, with a new shell. His W3 Triposto is the only 3-seater sports car with a center driver seat. Plus North America's best surf wave is the neverending wave by Habitat 67.

Dinner at Le Club Chasse et Pêche back in Old Montreal (423 rue Saint Claude, 514 861 1112.) As the name implies, it's all hunting and fishing here, with sculptured dogs and bulls on lanterns in the round, grotto-like rooms. Famous for its risotto, the crisp sweetbread, bison sirloin and white chocolate mousse are standouts. They also get Canada's best cheeses which you won't find elsewhere.

Head to the Wunderbar at the W (901 Victoria Square). A tiny New York style nightclub, it's the place to go dancing in town. From the ropes outside to the hostess inside, it's first class all the way. Expect a lot of Ne-Yo and Timbaland.


Other Saturday Night options
Best mega club is Stereo After Hours which goes till 11 AM. Madonna likes the sound system here which is the best in North America (858 Sainte Catherine East, 514 286 0325.)
Sunday
For culture hit up CCA (Center of Canadian Architecture, 1920 rue Baile, 514 939 7026) or the MAC (Montreal Museum of Contemporary Art, 185 Sainte Catherine, 514 847 6226.)

Brunch at Le Cartet (106 rue McGill, 514 871 8887). I like the saumon patties with its dill crème fraîche, and the Vache Qui Rit pottery and exotic wall of chocolate bars for sale.

Then you can walk Old Montreal. Though it's always reported that Notre Dame Basilique (110 rue Notre Dame West, 514 842 2925) is the oldest, it isn't. The current building is 1800s. Work began in 1657 on the Bonsecours Chapel on Saint Paul which is the sailours church.

Hit Boutique Reborn (231 rue Saint Paul, 514 499 8549) which is my favourite indie designer shop in town. Though they have Acne Jeans and Rick Owens which you can get elsewhere, they also have locals Rad Hourani, Complex Geometries, Harakiri, Rashmi Varma and Yso.

Other Sunday shopping options
If you've left all your going out clothes at home, there's also Sisense (227 Notre Dame West) which does D & G, Miss Sixty, J Lindeberg and G Star.
Close out your weekend at Pullman wine bar (3424 du Parc avenue, 514 288 7779) back near the Opus.

BASICS
You are crossing the border so a passport is required. I got mine from It's Easy Passport and can't say enough about how, well, easy they made it. Especially with the chip that all the new ones have, leave ample time.

Local currency is Canadian dollar. Sadly for Americans, the exchange is approx 1:1 right now.

Downtown is a 15 minute ride from Montreal Trudeau airport. It is about $35.

It helps if you speak French, but everyone (except some cab drivers) speak English.

Montreal is very gay-friendly. I didn't cover it in this piece, but there is a well-known area called the Gay Village with some super clubs.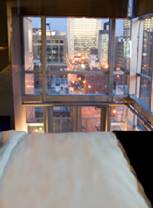 above The amazing view from the Opus penthouse suite

TOP BUZZ
I'm always asked, so here's what I'm loving right now
1.PDT in NY. Speakeasy inside a phone booth
2.Tillman's. Jazz and grilled cheese in cozy grottos in Manhattan.
3.ONE Sunset. The lounge resto du jour in L.A.
4.Robata. Brand new West Coast skewers eatery from the Sushi Roku folks.
5.Ronnie's Bar. Above British legend Ronnie Scott's, a surprisingly good watering hole.
6.Tom's Place in London. Fish & chips from Tom Aiken, opens Oct 22.


SPONSORED LINK:
Montreal Trips on Yahoo Travel