This Week's HipBites

Hotel Babylon

If you're a traveler anything like me, you bring your own veggie sushi and cashmere blanket onto the plane and your own pillow, 'cause you find even five star hotels icky. Well, apparently my paranoias are all justified. The buzz of the London reading circuit is new book Hotel Babylon. What Kitchen Confidential did to mid-range - and mediocre - restaurants, this book does to 5 star hotels.

And boy does it. From naked guests dancing in hotel lobbies to businessmen trying to wiggle out of $1600 telephone porn bills to dead sheep, all with a London manager of a renowned Mayfair establishment acting as, literally, the wizard behind the curtains, Here's just a snippet, our version of Cliff Notes - HipNotes – some tips and gossip as reviewed by Maria-Kristina, one of our Paris- based correspondents.
~ Syl Tang, Editor


Suspicious of your S.O.'s "business trips"? You should be. A staggering 9 out of 10 men ask the hotel for 'an extra pillow.'
There are rats at the Savoy in London. Being near the river, it's just crawling with them.
...Rats aren't the only scavengers at the Savoy: Kathleen Turner can be found hoarding petit fours in her purse and then asking for more.
Think that's Grey Goose you got at the hotel bar? Wrong again. That's how the staff gets their free bottles. Expect short serving.
Hotel breakfast is like a license for printing money. That $25 Continental costs them 50 cents to make. That's right. 50 CENTS.
Worst hotel guest? Oasis' Noel Gallagher takes the prize for tossing wine into waitresses' faces.
Think that clean-up bill is also bit padded? Right again, bad behaviour finances hotel renovations – they just love your rock star antics so party on!
Not that they need it: that $3000 suite? It costs the hotel just $15 a day. And that includes the Penhaligon toiletries you love - just $2.
Hotels KNOW when you've refilled up the mini vodkas with water. Or tried to reseal those Kits Kats. Gin, vodka and Baileys make the top of the "magically vanishing" list.
There's never just one "best" suite. If they told you that you have it, there's another person just as lucky as you.
Asking for anything extra? Expect to be tripled charged as they do for Cher's organic food, Michael Jackson's 48 bottle Evian bath, Madonna's suite of exercise bikes...
Speaking of gymnastics, Pamela and Tommy Lee were caught on tape using X-Trainers as they were never meant to be used. That's right, there are cameras EVERYwhere.
...And if you find yourself in London, at the scene of the crime, and you don't want to drink up at eleven? Do as the celebs do – go to the Halcyon bar hidden from the police...
Before signing off, here are Five HipTips from Babylon:
Never pay for an early check-in. Hotels double- book the room and if you're coming in on a red-eye you will end up in the business centre.
Plan to see your Azzaro or Chrome Hearts again? Never trust hotel dry cleaning. It's always sent out and it always arrives late with a few pieces missing.
Do not leave behind old bedroom toys, used prophylactics or poop in your bed. At the good hotels, everyone has a LONG memory - it's called a computer - so if you're even the slightest untidy, tip your maid where tips will actually reach her, bellboy- proof it. Think under the pillow.
If you want to host a late-night soirée chez-toi, keep ordering room service Trinidad Diplomatics, Dom and Dalwhinnie. As long as you're still spending big, more blind eyes will be turned to your other tricks. No pun intended.
Famous now or planning to be? Pay cash for all of your incidentals – that bill is a permanent record...for, oh say, tabloids, subpoenas, the like.
Contributed by María-Kristina Pérez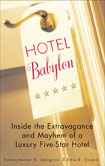 above: The cover of the salacious tome, Hotel Babylon.



HIPLINK
You're eating out anyway so you might as well try one of these 38 restaurants across the country including Aix, Tocqueville, BLT Steak, Payard, Biltmore Room, Strip House who for till end February are donating from dessert sales to CARE which helps to fight poverty and hunger around the globe. Sweet Relief's website www.sweetrelief.us