This Week's HipBites

Fall Fashions 2004

Fashion Week is like an excessive rinse- and- repeat: if you aren't careful, the stress will leave you bald when it's all over! We went and filtered... filtered... filtered for you. So instead of needing a wig, below are the only names, along with the fashion HipBite, and a summary of What To Wear on the right, all you'll need to know for the trends going into this Autumn.

Kati Stern for Venexiana
What:
"Rock goes to Carnevale!"
Why it's hipworthy:
Venexiana has singlehandedly brought back drama to Fashion Week. "Courtesans in a rock band" is how we describe the mixture of leather corsets, furry shoulders, laser cut chiffon skirts and ribbon detailing. Kati Stern must have also been thinking, "Enough with boring cocktail dresses and black suits on listless, blank-faced models on the runway!" The best use of coloured fur and corsets we saw all week. Even fortuny pleats and lace were made new and fresh. This is show-stopping clothing for the right party.
What's new:
Turquoise fox throws with Mongolian lamb trim. Patterned tights. Winged leather pants. Textured hose with silver shoes laced over them. Fluorescent eye makeup with glittery lips. Ruffles.

Jeffrey Chow
What:
The buzz of fashion week in New York is this Chinese designer.
Why it's hipworthy:
He's this year's Zac Posen. Ladylike clothes that aren't stuffy using everything from rich brown/orange gabardine striped trousers to slim bronzed pants to a pearl coloured satin, figure-hugging column dress worthy of Audrey Hepburn.
What's new:
Everything (!) since he's just landed on the scene - this is his second collection. We've never quite seen orange and tweed used so...tastefully.

Marc Bouwer
What:
The reigning king of the sexiest Oscar- worthy gowns around.
Why it's hipworthy: Somewhere between a Bond girl and Mata Hari is what this collection recalls. Sexy, sexy, latin sexy. Each dress an ode to a woman's curves, this is what we'll be wearing to take over the world.
What's new:
To the tune of Besame Mucho, 1940s glamour models in chignons, red lipstick and false eyelashes showed off feather boleros, peacock-tailed suits, black jumpsuits, gold and black beaded snake print dress.

Peter Som
What:
"Aristocratic lady equestrian falls into a fabric box..."
Why it's hipworthy:
We attended and so did...Anna Wintour, Camilla Nickerson, Grace Coddington, Phillip Bloch...The second most buzzed about designer behind Jeffrey Chow this year.
What's new:
Cashmere sweaters with brooches over satin skirts. A grey sweater worn with long scrunched lavender gloves. Fur stoles held in place with skinny belts.

Joanna Mastroianni
What:
No pomp. No circumstance, and definitely not on Page Six. This very discreet Italian designer is the secret weapon of women who want to shine in their dress not just have their designer's name on E!. Her old- time style has made Sharon Stone, Vivica A. Fox, Angela Bassett, Melanie Griffith, Michelle Pfeiffer and many others outstandingly glamourous.
Why it's hipworthy:
There is a lot to be said for a designer who does not feel the need to cattlecall the celebs, press and buyers in a torturesome and expensive tent display. Instead the work speaks for itself without the glitzy show. With a return to ladylike elegance, Joanna's collection is never more relevant than now.
What's new:
A collection inspired by Irving Penn's photos of Lisa Fonssagrives, including a luxurious open white satin tie- front blouse.

Kapadia
What:
The menswear designer for men who like well- styled clothes but don't want them to be fruity.
Why it's hipworthy:
Remember when we told you Romain would be big. Well, now he is. So much so that nightlife legend Rudolf Piper and new generation Donald Trump Jr. both walked his runway.
What's new:
Military accents and Civil War touches. Badges, caps, epaulets, suspenders, lacing. Brown velvet jackets, purple sweaters, and tuxedo shirts.

Patrik Rzepski
What:
"Morbid downtown."
Why it's hipworthy:
Still really really young, Patrik is a designer to watch for the deconstructed, tortured- by- ghosts Rivington St set. Dang, someone give him funding so he can make the designs he must be dreaming of!
What's new:
Still doing unfinished hem and deconstructed tops, but this season includes girlish, lovely pleated and shaped tulip turquoise lame skirts.

Cloak
What:
Viennese inspired menswear.
Why it's hipworthy:
The most buzzed about menswear collection is showing clothes with both sex appeal that are masculine. Somehow the detailing and leather pants aren't super-gay, which means straight men can be men, and gay men can be macho.
What's new:
Overdyed canvas plus-fours, canvas jodhpurs, elbow strap blazers are decadent without being over the top in oxblood, dark moss, and greys.

Anya Hindmarch
What:
The accessories designer most famous for Be A Bag, everyone from Kate Winslet to Claudia Schiffer to Jamie King has one.
Why it's hipworthy:
Fashionistas at all the major mags are stomping all over each other to get this new bag. After the U.K. launch, paparazzi ran around town trying to take photos of the inside of the bags with celebs running equally fast away from them.
What's new:
The bag, called the Bespoke Ebury, has in silver or gold foil, a personalized quote or even line drawing on the inside lining, usually from a loved one such as a husband/children/secret admirer etc. in that person's own handwriting.

See a touch of what we saw at:
http://olympusfashionweek.com/fall2004/designers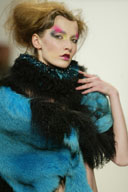 above Kati Stern for Venexiana's stunningly dramatic look on the runway.

NEED MORE HIPNESS?
For advance information on trends in travel and consumer purchasing, as well as upcoming openings, we provide full research reports to brand and product companies.
For information on subscribing, please enquire at sales@hipguide.com.

TRENDS
WHAT YOU'LL BE WEARING

1. PURPLE is the colour for fall. We saw plum at every single show.
2. Unlaced BOOTS. Probably Dr Martens. For evening, closed toe black satin shoes with criss cross straps or ankle ties.
3. LEATHER PANTS. Black. Not too fitted.
4. Skirts and trousers in either SATIN, TWEED or WOOL gabardine. All LADYLIKE all the time.
5. BROOCHES.
6. FUR CAPES and tweed skirts in every show.



HIPLINK --->
PROENZA SCHOULER FOR THE LAYPERSON
Last year's big deal designer team goes eBay. Rather than give them to editors (sob) or archive them, Proenza Schouler are selling this year's model samples in a most unusual fashion. On February 26th, they are auctioning off some of the togs on ebay.com. Which means instead of retail, you too can claw, scratch or type your frenzied way to owning their one- of- a- kinds. Be warned however that everything is an itsy bity teeny weeny...Proenza Schouler.