This Week's HipBites

The Skiers Club

We know you're still hung over from Heidi Klum's Halloween party at LQ, but the slopes are opening.

For the record, we don't believe in skiing amateur, frat-slopes (big eye roll), so down below is our selection on hip snow for everyone from the newbie to the bunny to the virtuoso. Follow us to a posher, tonier powder this year.

1. TRAVEL ->
In addition to our beloved Gstaad (yes we'll see you at the Eagle Club and the GreenGo)...

St Moritz
Though Roger Moore splits his time between here and Zermatt, we think the best apres ski is here in St Moritz, Switzerland since what's the point without the high rolling and polo parties. As far back as Greta Garbo and Marlene Dietrich, the slopes at Corviglia and Corvatsch have hosted the most discerning. We like to stay at Badrutt's Palace, which is also the official home every January to the Cartier Polo World Cup on Snow. It's very likely that the Kings Club inside the Palace, where we've ended way too many apres "apres ski" club nights is the reason that George Clooney, Ivana Trump, Sylvester Stallone, Liz Hurley, Tina Turner and well, us, keep coming back. We also hear good things about the spa and champagne breakfast at the Kempinski Grand Hotel des Bains. For eats, Reto Mathis' La Marmite. You can only ski or get to it by funicular. Let us know if you're planning on treating; we'll be having the S$400 caviarissimo dish. Beef carpaccio with truffle shavings on one half of the plate and smoked salmon with caviar and sour cream on the other. By far, our favourite thing in St Moritz are the Friday night "Snow Nights" on Corvatsch, where between the outdoor DJs (woo woo!) and mulled wine, it was difficult to "ski" responsibly.

Megève
Remember when we predicted two years ago that Bottega Veneta was the next Prada and now it's happening, well, don't say you didn't read it here first; in the French Alps, lies the next big ski destination for international travelers: Megève. At 3,640 feet, the French - and the insiders - as far back as Hubert de Givenchy, Ringo Starr and Baroness Naomie de Rothschild, have been coming here for years since Megève is close to the Mont Blanc, long considered to be the roof of Europe. The must-restaurant for HipGuide is Marc Veyrat's la Ferme de mon Père. Veyrat's restaurant, L'Auberge de l'Eridan, on Lake Annecy, drew the likes of Mitterrand. From November to April when la Ferme de mon Père is open, it's the hottest in Megève. Since you can't eat at Marc's every night, we also liked the Rothschilds-owned Chalet du Mont-d'Arbois where we loved a local fish called the omble chevalier. Lower key and more fun loving is Les Enfants Terribles. And for foodies who keep a checklist, Restaurant Michel Gaudin is a to-do; Gaudin trained at Taillevent and Troisgros. Lastly but not least, if clubbing is what you're about Megeve is not for you, but we did have a fun drink at Casino and Le Pallas does its turn as a club if you get desperate for dancing.

Verbier
We've had many good times at The Little Nell in Aspen but much hotter and more international is renting a chalet in Verbier, Switzerland. At 10,930 feet with a vertical drop of 6,010 feet, the ideal time to go is for the Verbier Extremes at the end of March. Ski Creblet or Vallon D'Arbi and then eat up at Vanessa or Rosalp, the latter of which is also the hotel to stay at if you're too lazy to chalet-it. We liked the party circuit which is predictable without the sad, sad Club Med feeling. Begin at Le Pub and then go on to Offshore, ending up at Taratata or the legendary Farm Club in the King's Parc ...if you don't mind drinking with random Eur-Royals.

2. LEARN ->
We recommend the following slopes and instructors...

Adi Erber Ski
teaches in chic Sun Valley, Idaho. As we first noted in a '00 hipguide article, he's trained the now Governator. If he's good enough for Arnold's black diamonds...
Call the Ski School at 208 622 2289

David Merriam
World famous David now directs the Stowe program in Vermont, but you can still request him personally for his take no prisoners approach by calling the Ski and Snowboard School 800 253 4754

Ernie Blake Ski School
in Taos, New Mexico is one of the all time best ski schools. For info: 505 776 2291 or if you trust us, just make a reservation through the Taos Valley Resort Association at: 800 776 1111

3. GO VIRTUOSO ->
Well beyond just shaken not stirred, are these two adventures. In case our user's agreement isn't clear enough for your martini-addled brain, now is a good time for us to remind you, that you ski at your own risk! Now...

Greenland Outdoors Heli Ski Tour
Co-guided by John Egan, a resident of Sugarbush, Vermont, and a co- owner of the Extreme Team, are these tours which have you traveling through Copenhagen to Greenland, and then... dropping out of a helicopter onto the slopes.
800 472 6046
Greenland Outdoors Heli Ski Tour's site
A second resource that also goes to Greenland are the Wasatch Powderbird Guides
800 WPG HELI
info@powderbird.com

Himalayan Heli Ski Guides
In March 2002, these folks did a reconnaissance heli-ski trip in the Annapurna region of Nepal to see if heli-skiing in Nepal was even possible. Turns out it was not only do-able but the views for the Annapurna range, Manaslu and Dhauligiri regions, were unbelievable with endless variations of terrain. With plans to take adventurers into other Himalayan areas such as Everest, Dhauligiri, Makalu, Cho Oyu, Kangchenjunga, and Dolpo, you can truly be the first.
Himalayan Heli Ski Guides' site

4. WEAR ->
No. You can't wear that really ugly red one piece from the 70s.

We like the Chanel snowboard- printed with the classic quilt, Burton's Shaun White Hi-Fi helmet, and Anagram goggles (Burton's Rider Service is at 800 881 3138), and this season we're in love with...

The world's lightest down jacket is made by this Italian company, Belfe, and weighs in at only 388 grams. Worn by competition skiers so that nothing will slow down their time, we also love that they produce the Armani, Chanel Sport and Christian Dior lines of activewear.

For those a bit more familiar with landing on your tush, don't stick Charmin in your snowsuit; protect your butt the right way. Belfe also makes a cool line of technical skiwear which comes with inflatable shock absorbers, which can be blown up and placed in an internal pocket inside the ski pants in that...strategic spot. And they know a thing or two about skiing in style since the company is run by the former president of brands Stella McCartney, Alexander McQueen and Balenciaga, Thierry Andretta.
212 813 2410.

Lastly but never leastly...
Seven Hip Slopes, A HipGuide Checklist
Who hasn't been to Aspen, Vail and Telluride. Great.
Here's a few more you may have overlooked, which we think are worthy...

1. Whistler, B.C.
2. Big Sky, MT
3. Alyeska, AK
4. Sunshine Village, Alberta
5. Alta, UT
6. Jackson Hole, WY
7. Fernie, B.C.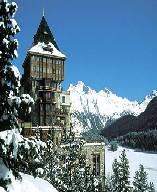 above the view in St Moritz