This Week's HipBites

It's an art art world

True story: one time at the MOMA we squished behind a group of self-satisfied people exclaiming over the "significance" and "subtleties" of a piece in a particular room. When the dust cleared and we could see the contents of the room, we could see that the white washed room contained only a white block. A tiny sign on the right, overlooked by the art fans, indicated that the art in the room had been removed for a show.

The block was just a stand.

Don't let this be you.
It would be crazy to try to update you on all the cool art worth seeing, reading, discussing and buying, in one short newsletter, but here are things that caught our eye:

Desert Masters of Australia exhibition
Although collected by in-the-know folks down under for some time now, light has suddenly dawned over Marblehead when it comes to aboriginal art. After a July Sotheby's auction garnered AU$ 6 million, artists found themselves featured in the New York Times, the New Yorker.... Dreamtime Maps opens this month the Desert Masters of Australia exhibition, showcasing aboriginal art, with a number of the talked-about artists.
www.dreamtimemaps.com

LED art by Teddy Lo
Full colour LED screens are controversial now that Clear Channel is claiming that NYC subway entrance LED panels won't distract drivers (uh, after NYC fined shop owners with signs in foreign tongues for their "distractive qualities"). But all of this has not stopped Hong Kong artist Teddy Lo from using LED tech to give a new dimension to art. His installations at Studio DiModica in NYC (yes, same DiModica as the Wall St bull sculpture) include a microphoned piece that changes when the visitor chants the word that is "the path to enlightenment" and one that is best seen with 3D glasses. L.A. film director Corey Weekley is making a documentary of the exhibit and L.A. photographer Nathan See is creating an imagery series from Teddy's work.
www.ledartist.com

Cy Twombly's never-before-exhibited 50 Years of Works on Paper
On Cy Twombly's 75th birthday, the artist decided to show many of the drawings, monotypes and paintings on paper which have been primarily kept in his own collection. 50 Years of Works on Paper is this long-awaited retrospective. More than 80 works which have never been exhibited or published before, ranging from the early drawings of 1953 to his large format paintings on paper, created in Gaeta, Italy, will be traveling. Currently in Munich (Pinakothek der Moderne) until November 30th. Curated by Julie Sylvester at the Hermitage in St. Petersburg where it was first shown, it goes next to Paris' Musee d'Art Moderne, Centre Pompidou (Jan 1 - Mar 28, '04) and the Serpentine Gallery in London (Apr 13 - May 23, '04).

Marimekko
In 1951 a Finnish interior textiles company looking for a way to garner attention took their furniture fabrics and made a little runway show. Little did they know that the marketing stunt would turn into a huge trend. Design Research, a shop in Cambridge sold Jackie Onassis 8 dresses and the rest is history. See a retrospective of Marimekko, the Finlandian company that revolutionised fabric, fashion and architecture by blending traditional design with bold colours in hand-printed patterns, on display in NYC from November 21- February 15th.
www.bgc.bard.edu/exhibit/exhibits/marimekko/index.html

Jonathan Cramer's "Ten"
If you aren't close enough to check out artist Jonathan Cramer's show at the Remy Gallery in NYC's Chelsea or at the Hayden Planetarium's SonicVision right now, in January, he and organisational genius Santiago Navila launch "Ten". At once an installation of 55 pieces of art that form Ten, it is also named for their belief that cultural boundaries can be overcome by examining ten values we all share using art as a medium of learning. The education portion is targeted towards school students to start them out early. Then the art portion of Ten will launch simultaneously in ten countries with Robins Island, South Africa confirmed, and rumours of the Tate being involved, as two of the locations.
www.ten-values.org

1,000-Twinkies
If you're not stuck at the Tate but in NYC, hop over to Brooklyn to check out the 1,000-Twinkie sculpture on display. In case you didn't get enough sugar as a child, that's "1,000 individually-wrapped jobbies. They'll be getting liberated one by one as the weekend moves on," says Jan Larsen of LuXury Showroom 25 Jay.
www.theXpo.com

Matthew and the anti-Matthew Barney
We loved Charlie Finch's article on Matthew Barney, which begins with with a comparison of the artist to Ronald Reagan, comparing his tiny head to the ratio of a kiwi fruit on top of a bunch of celery. If for no other reason than Barney fans everywhere will be livid.
Check out Finch's article about Barney as a "big lie" at
www.artnet.com/Magazine/features/finch/finch6-11-02.asp
and for the actual Barney work
www.cremaster.net/

Berliner Kunst
Lastly but never leastly, everyone can read Art in America, but we also keep an eye on Berliner Kunst Magazine. They covered the ground breaking Duchamp Traveling Exhibition way back when in '91 and today they are as far reaching as "actions of disturbance" artist Gianni Motti, showing respectively at Galleria Artra in Milan and at the Church of San Matteo in Lucca.
www.berlinerkunst.com

HipGuide congratulates the winners and finalists of the Smithsonian Institution's Cooper-Hewitt, National Design Museum's fourth annual National Design Awards. Originally launched at the White House in 2000 as an official project of the White House Millennium Council, this year the finalists include such stars as Christina Kim of Dosa, nest mag's Joseph Holtzma, Narciso Rodriguez, and furniture designer Herman Miller. Lifetime and Corporate Achievement awards will go to design leaders including I.M. Pei, Lella and Massimo Vignelli, and Target.
go to www.cooperhewitt.com and click on the awards section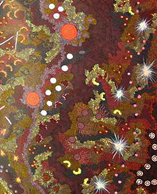 above Aboriginal Artist Gabrielle Possum Nungurrayi's piece Bush Tucker Dreaming

HIPBIT
MEXX ATTACK
Congrats to the Mexx couple! With another shop coming in NYC on the heels of the first one, this time with Mark Ronson, Beverly Bond and Junior Sanchez among the DJs rocking the forthcoming opening, Mexx is primed to give H & Ms everywhere a real run for their Kronas.

HIPLINK
MARTHA, MARTHA, MARTHA!
Why don't they make PJs with feet for adults? We love the new Chicken Halloween costume for kiddies in Martha Stewart's Winter catalogue but we want to know why it doesn't come in our size? Martha, are you listening?