This Week's HipBites

~dedicated email~ a free treatment from skinklinic

Has the rain got you singing the blues?
Is your skin is dull, tired and ready for a change of tune?

It's time for a free essential treatment at skinklinic...

Experience skinklinic before summer ends! Receive a complimentary skin consultation and enjoy your first essential treatment (glycolic, beta, or microdermabrasion) free.

Make the call! 212 521 3100

Special offer code is HIP/augustfree. Offer valid for first time clients only.

Offer expires August 30, 2003. Appointments must be booked Monday - Friday between the hours of 9am - 4pm. Offer is non-refundable for cash, cannot be combined with other offers, and certain other restrictions may apply.

about skinklinic:
skinklinic is a new concept in skincare and cosmetic dermatology that incorporates skin services, cosmetic dermatological treatments, products, and information. Frequented by New York beauty editors and fashion models, skinklinic is the place to go if you desire to see visible improvements in your skin. Perfect for those of you who are tired of treatments that pamper but deliver no results. Whether you need to get rid of those wrinkles or improve your skin's texture and color, skinklinic is the place for you! Medically trained practitioners and dermatologists administer skin treatments in private, spacious rooms within a serene, minimalist environment.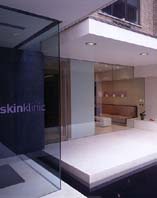 above: the entrance to skinklinic

monday & tuesday 11 - 7, wednesday & thursday 8 - 8, friday 8 - 7, saturday 9 - 3 courtyard entrance on 61st street (between 5th & madison avenues) in new york city.

www.skinklinic.com / info@skinklinic.com