This Week's HipBites

Recession Shmession! The New HipSpots

For a supposed recession, there sure are a lot of openings. Eau in Chicago. K Bar Chelsea and West Street in London. Chroma in Miami.

Every week we give you a snapshot of our 5 newest listings down below, but this Autumn, there are so many, here are the places you can find us in the next months...

The Return of the Club
Paris is going subtle this year with after hours spot Studio 287. London never disappoints, rivaling Ibiza with clubbing but this Fall, they're going classier. The Social, a smaller venue, and Pacha a swankier version of the Ibiza standard open up, while the super club moves West to the States with Vue and Cielo in NYC, and 1000 square foot Ivar from nightlife vets Nathan and Posniak in L.A. . Chicago marries the Crobar feel with a lounge in Super Lounge

People Drink Like Fish in L.A.
First there was Hollywood Canteen, Deep and 40 Deuce. Now from Las Palmas vet Loyal Pennings comes Corridor. The folks of Sunset Room opens White Lotus. There's Ultra Lounge on the horizon and say Hola! to Nacional.

Food is Key In The Pyramid of Life
While bar after bar opens in L.A.; New York, the Naked City, can't stop opening food spots. Argentinian spot Azul dazzles with regulars Sports Illustrated supermodel Yamila Diaz and Victoria's Secret Ines Rivero. Trust replaces Fressen with its coterie of chic parties including the Metro TV Fashion Week do. Nong brings affordable Pan Asian to the strip of Park Ave. South that desperately needs a new eaterie. And Geisha, Mermaid Inn are also coming soon for eats.

Hey Big Spender...
New Yorkers are determined to revitalise their own city. The British TV crew we saw in lower Manhattan claiming its desolate has not been shopping lately nor have they noticed their countrymen helping NY out! Fashion Week this week marks the opening of Brit Stella McCartney's new meatpacking district shop. Also nearby and chock full of British togs, such as Preen, to support the NY economy is Dernier Cri. Sportswear makes a major comeback: Adidas and Puma opening anchor stores. The launch of a sportwear line called LabSports. And Christy Turlington's Nuala for Puma pairing up with Marc Jacobs.

Get out there and singlehandedly bring back the economy.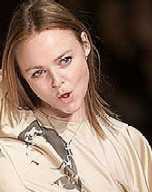 New shop owner Stella McCartney
An UNHIP FRIEND killin your mojo? Get them to SIGN UP FOR HipBites
HIPEVENT:
If you're in NYC the next few weeks, check out the extremely cool "Iconic films of NY" movie series at the W The Court (of the W Hotels).
Tuesdays thru Oct 8th.
RSVP 212 595 8888. $15 cocktail-nibbles minimum.