This Week's HipBites

Hipness by Numbers

Have you noticed the proliferation of places with numbers in their name? In NY, Bungalow 8, Bond 007, Lot 61. Boston: Tremont 647. London: Twenty Four. Philadelphia: Rescue 138. Chicago: Ten56...You can't escape it. Below. A list of our favourites. Demonstrate your hip awareness by hitting up the spots that have picked up on the latest trend: names with numbers.

Your home not mod enough? Like having a personal stylist for your house, NYC's Room 001's design experts can create a complete look for you. Furniture to wall coverings to lighting. Or you can just stop in and pick up, a la carte, some tres sophisticated and ultramod furnishings. Tell Filipe we sent you, bring in a printout of this email, receive a 15% discount off of furniture and a 10% discount on all other items. Room 001, 229 Mott Street, NYC, 212 625 9444. Now that your house is all dolled up, turn your attention to yourself. Jet over to Chicago, pick up the latest designer trends P.45. (pictured on the right). From Petit Bateau to Veronica M. Keep an eye out for client Dennis Rodman - he's friends with owners Jessica and Tricia. Order online from P.45.com anytime in July and take 10% off of your purchases by typing in promo code HipGuide into the Special Instructions box on the order form. P.45 1643 N Damen Ave. in Chicago, 773 862 4523.

Last on the prep list, your personal glow. Drop into San Francisco's 2202 Oxygen Bar to revitalize yourself. Oxygen is served in different flavours, so choose among scented creations like Invigorating to prep for your night out. 2202 Oxygen Bar, 795 Valencia St. San Francisco, 415 255 2102. Take a break from the typical Hollywood scene at 66 in Los Angeles. This sexy, Mexican - flavoured lounge with its unpretentious hip vibe and hot dance floor offers something different every night including djs, bands, and comedians. 66, 6266 ½ W Sunset Blvd., Los Angeles, 323 467 3625. Close out your evening Southern hospitality style at Eleven50 in Atlanta, where the beautiful people are seen congregating in a large converted theater to the sounds of djs such as Timo Maas. Refuel at Acqua, the club's connected, outdoor tapas bar. Let them know you're sent by HipGuide by arriving with a copy of this email and you don't even have to pay cover (not valid during special events). Eleven50, 1150-B Peachtree St., Atlanta, 404 874 0428.

And if you can't travel, surf the U.S. by numbers: www.p45.com, www.eleven50.com, and Room 001's working on theirs www.room001.com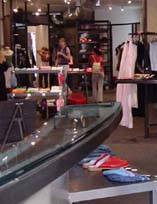 SPONSORED LINK Congratulations to Nicole Bostick, winner of the A Latin Night Out With Tesoro!

Check out Tesoro online! You must be 21 to enter!