This Week's HipBites

The East Coast According to Matthew Kenney

When it comes to Matthew Kenney, we'd like to lick the sauce. Of his cooking. All up and down the East Coast, Matthew has turned the art of ingredients (cardamon, couscous, coriander, cumin) into some irresistible fare. In NY, his enduring spot has been Mezze (10 East 44th, 212 697 6644), a concept based on flatbreads. Sandwiches and pizza made with a rolling pin and no yeast. Do you think it gave the guys who launched Cosi some ideas? Also in Manhattan, Commune (12 East 22nd Street, 212 777 2600), which is "food for New Yorkers" isn't a gathering place of communists but rather a place that all kinds can feel comfie. Congregating there? Rob Lowe, J Lo, Ja Rule, Tara Reid. Commune is so good in its cross-appeal that the restaurant appears in everything from The Sopranos to the Meg Ryan flick Kate and Leopold. In Atlanta, a second Commune (1198 Howell Mill Road, 404 609 5000) brings NY bistro to life in the South, seating 190 in the Hollywood Pullman booths or courtyard cafe. We like the chocolate fondue, strawberry shakes and mussels. Matthew says it's not as intense as the NY outpost but can that be true with LA Reid, Jane Fonda, Elton John traipsing through?

It's the blondes! It's the suits! It's the black and white sleekness of Matthew's most recent venture, Commissary (1030 Third Avenue, 212 339 9955)! Hal Rubenstein said that this place makes him miss disco; it may be that nostalgia that brings in Ashford & Simpson and has Blaine Trump calling up for takeout. For us, it's the grilled lobster in coconut milk that keep us going back. Speaking of lobster, up in Portland Maine, Matthew's home state, Commissary has proved to many that Maine is more than crustaceans- and we don't mean your aging neighbour! While currently undergoing a move to the Old Port, the restaurant gets many of its goods from Portland's famous Public Market.

We know how HipGuide folks can't resist a good meal so we arranged for any reader who prints out this email and takes it to a Matthew Kenney restaurant to receive 10% off their total check. Tell the French Culinary Institute alum and once Tabasco Live Chat host that we say a spicy hello!

COMING SOON! A chance to win full-size goodies from Rayban, Prescriptives, Kate Spade, DKNY Jeans, Vera Wang and a limited edition Italargento bracelet created for EW's Annual IT List 100 (the gorgeous Henri Bendel bestseller). Are you "it"?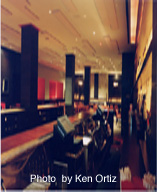 Congratulations to Amy Zehran and her three HipSet pals who won the Maerceci T shirt and gloss giveaway!

Check out Maerceci's cute T shirts!